Creed Doubles Up in Motor City and Heads to the Pond
X-Games Gold Medalist & 2-Time Stadium Super Trucks Series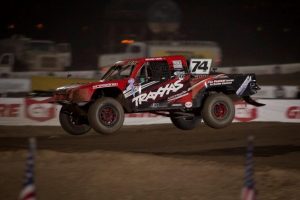 Champion at The Detroit Grand Prix
Long Pond, PA, June 7, 2017 (Newswire.com) - X-Games Gold-Medalist and 2-time Stadium Super Trucks Series champion, Sheldon "The Showstopper" Creed, enjoyed a very successful weekend at the Detroit Grand Prix on Belle Isle, sweeping both Stadium Super Truck races and taking a fighting 4th place in the Trans Am Series, presented by Pirelli race.
It wasn't all clear sailing for Creed however, as he had to start at the back of the field for both SST Race #2 and the Trans Am race, but for very different reasons. Standard SST rules invert the field for the second race of the weekend and Creed had taken a dominant win from 3rd on the grid in Race #1, taking the lead by Turn 2 and controlling the pace all the way to take a comfortable win.
Creed's grid position for the Trans Am race was dictated by a penalty for avoidable contact stemming from a last lap passing attempt at the previous Road Atlanta race that didn't quite work out to everyone's satisfaction. Creed started shotgun on the field in the United Fiber & Data/United Rentals, Stevens-Miller Racing Dodge Challenger in 15th place. After making some early passes, gaining more positions through attrition, and after several crashes brought out full-course cautions, Creed eventually found himself in a two-lap shootout for 3rd place. He came up just short of the win, but certainly delivered one of the day's top drives in only his second Trans Am Series start.
Creed's last race of the weekend came later Sunday, when he lined up at the tail of the field on the inverted-from-Saturday SST grid. "The Showstopper" made short work of the field, taking the lead by lap 4 and again controlling the pace from the front and surviving the SST-standard multiple late race competition cautions to take another dominant win — his 31st in the series. Creed has now won 5 of the 10 SST races he's competed in this season and sits 3rd in points. That is just 5 points adrift of series points leader Paul "The Dude" Morris, despite missing two races due to other racing commitments.
Sheldon Creed on Detroit:
"We had a really good weekend in Detroit and it really couldn't have gone much better. The two SST races were really fun, especially having to come through the pack on Sunday. It was tough starting the Trans Am race in 15th, but I just played it conservative and took care of my brakes and tires and hoped to have a shot at a top-5 at the end, so I was pretty stoked to get 4th. We caught some breaks with the cautions, but the Stevens-Miller Racing team gave me a really good car and I was able to make some key passes when I needed to. Thanks to United Fiber & Data for coming on board, and thanks to United Rentals for supporting me all season!"
Creed's next race is the General Tire #AnywhereIsPossible 200, ARCA Racing Series presented by Menards event this Friday at Pocono Raceway. Creed will be piloting his usual MDM Motorsports entry, but it will have a different number and a different look at Pocono. His usual car number 28 will be used by another driver due to sponsor commitments, so Creed will race with the number 12 for this, and four other ARCA Series races. Since Creed's #28 car sported a Davey Allison throwback paint scheme, Creed decided to continue the theme by throwing it back even further, and his #12 United Rentals / AM Ortega entry will sport a red-and-white paint scheme based on Davey Allison's first ARCA Series entry in 1982, coincidentally, also #12!
The General Tire #AnywhereIsPossible 200, ARCA Racing Series presented by Menards event will be broadcast on FS1. 
About Sheldon Creed:
Sheldon Creed, nicknamed "The Showstopper" began racing BMX at age 3 and won 2 motocross championships at age 6. He has won at least one championship every year since 2008.
Career Highlights:
25 Lucas Oil Off Road Racing Series 1st Place Finishes

5 Championship Off Road Racing Series 1st Place Finishes

2015 — X-Games Gold Medalist in Stadium Super Trucks

2015 & 2016 Speed Energy Stadium Super Trucks Champion

2016 — NASCAR Camping World Truck Series, ARCA Series, & world-famous Dakar Rally

2017 — Competing in the ARCA Series, NASCAR K&N Pro Series East and K&N Pro Series West, NASCAR Xfinity Series, Trans Am Series, and Stadium Super Trucks Series
Media Contact: Brian Bonner​
​Email: bonner@brmrace.com
​Ph: (978) 361-5295