Creed Fast & Loose at Michigan — Headed for Tough Test at Sonoma
X-Games Gold Medal Winner, Sheldon "The Showstopper" Creed, next stop - Sonoma Raceway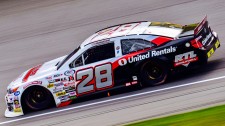 SONOMA, CA, June 21, 2017 (Newswire.com) - ​Sheldon "The Showstopper" Creed, had a great start to his weekend at Michigan International Speedway for the ARCA Racing Series presented by Menards Corrigan Oil 200, but a couple of miscues caused it to be a race to learn from, rather than one to celebrate.
Creed's #28 United Rentals/AM Ortega Construction, MDM Motorsports Toyota Camry was very fast right off the truck and sat at the top of the time charts for most of the sole practice session on Thursday, ultimately ending up 4th fastest.  Creed was very happy with his race car, choosing not to change the setup for qualifying.
Creed drew a spot toward the end of the qualifying order and knew, based on the times that had been run before him, that he should have a good shot at pole position.  Unfortunately, after a strong first lap that put him 3rd behind his MDM Motorsports teammates, Brandon Jones and Vinnie Miller, he caught the Turn 2 wall on the second lap.  Creed had to settle for the 3rd fastest time, which was MDM's first 1-2-3 performance in qualifying.
---
It was one of those live-and-learn races for sure, but at least MDM got the win with Brandon Jones.
---
Creed's car was damaged badly enough to require repairs by this crew, which is prohibited after qualifying by ARCA rules.  This meant Creed would have to start from the rear of the 29-car field.  At the drop of the green flag, Creed immediately began advancing through the field, but just as he got to the mid-teens in position he again tagged the Turn 2 wall.  The contact created damage that led to a smoking car and a trip to the pits where he lost 5 laps while repairs were being made.  Once he returned to the track, Creed set some of the fastest laps of the race.  Unfortunately, the damage was done and he ultimately had to settle for a disappointing 17thplace.
 Sheldon Creed on Michigan: "Michigan was one of those races where you wish you had a do-over, because MDM gave me the best race car I had ever driven, but I made a couple of mistakes and we weren't able to capitalize on it. In qualifying, I was just trying really hard to get the pole and I got a little loose and hit the wall in Turn 2.  Then during the race, I hit the wall in the same place when I was in a train of 4 or 5 cars and I just lost all the air on my nose and the car just took off into the wall. It was one of those live-and-learn races for sure, but at least MDM got the win with Brandon Jones."
Creed's next race is the NASCAR K&N Pro Series West, Carneros 200 at Sonoma Raceway this Saturday, June 24th, in support of the Monster Energy NASCAR Cup Series Toyota/Save Mart 350. As he did in his previous K&N Pro Series West start at Orange Show Speedway, where he finished a strong 2nd, Creed will be back in the United Rentals/AM Ortega, Ford Fusion for Jefferson Pitts Racing.
Creed's teammate in the JPR stables for the weekend will be none other than Monster Energy NASCAR Cup Series star, Kevin Harvick. In addition, MENCS stars Ryan Blaney and Daniel Suarez are also entered in the race, making it a great challenge for Creed and the rest of the K&N Pro Series West field.
Sheldon Creed on Sonoma: "I'm super stoked to race at Sonoma this weekend. I have never raced there before, but I have run it on my sim with iRacing a bunch and I've been using the Speed Secrets Virtual Track Walk (https://speedsecrets.com/virtual-track-walks) on Sonoma to get up to speed. It looks like a really tricky but fun race track, so I can't wait to get up there! We're using this race, and the four Trans Am races that I'm running with Stevens-Miller Racing, to get ready for the two Xfinity series road-course races in August at Road America and Mid-Ohio.  Having Kevin Harvick as a teammate is awesome, and having Suarez and Blaney in the race too is just a bonus!"
The NASCAR K&N Pro Series West, Carneros 200 at Sonoma Raceway will take place at 1:30PM PST on Saturday, June 24th. It will be broadcast at a later date on NBCSN.
About Sheldon Creed:
Sheldon Creed, nicknamed "The Showstopper" began racing BMX at age 3 and won 2 motocross championships at age 6. He has won at least one championship every year since 2008.
Career Highlights:
25 Lucas Oil Off Road Racing Series 1st Place Finishes

5 Championship Off Road Racing Series 1st Place Finishes

2015 – X-Games Gold Medalist in Stadium Super Trucks

2015 & 2016 Speed Energy Stadium Super Trucks Champion

2016 - NASCAR Camping World Truck Series, ARCA Series, & world-famous Dakar Rally

2017 - Competing in the ARCA Series, NASCAR K&N Pro Series East, K&N Pro Series West, NASCAR Xfinity Series, Trans Am Series, and Stadium Super Trucks Series
Media Contact: Brian Bonner
Email: bonner@brmrace.com
Ph: (978) 361-5295