Creed Heads Back to His Roots With MDM Motorsports at Eldora
Mooresville, N.C. , July 12, 2018 (Newswire.com) – You may know him from winning three of the last five ARCA Racing Series event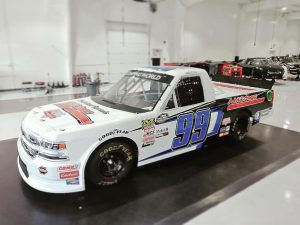 s on pavement, but Sheldon "The Showstopper" Creed grew up racing on dirt. From winning championships on BMX and MX bikes at 5 and 6 years old, to winning scores of races and championships in the Lucas Oil Off Road Racing Series and Championship Off Road Racing Series, to winning an X-Games Gold Medal and two championships in Stadium Super Trucks, you could say that Creed is comfortable on dirt. So, when Creed lines up for the Eldora Dirt Derby next week in the #99 MDM Motorsports A.M. Ortega/RTL Leasing/United Rentals Chevrolet Silverado, he'll be right at home.
This won't be Creed's first attempt to conquer the 1/2-mile high-banked dirt oval, as he ran the race in 2016 and 2017, finishing 16th in 2016, and classified 27th last year after dropping out with an overheating truck after 80 laps stemming from contact with another truck. Both of those races were one-offs with teams he had little experience with, whereas for this effort Sheldon will have his regular ARCA crew chief Jeff Stankiewicz calling the shots, and his long-time spotter and mentor, Lorin Ranier, in his ear throughout the day.
Ranier is no stranger to success at Eldora, having spotted for Kyle Larson in his run to 2nd place in the inaugural Dirt Derby (or the Mudsummer Classic as it was called then) in 2013, and going to victory lane as Christopher Bell's spotter in 2015. He spotted for Sheldon last year at Eldora but thinks that this year, his fortunes will be much better. "I honestly think that Sheldon has every chance to run up front and maybe even steal a win at Eldora," said Ranier. "He is just a phenomenal dirt racer, with incredible car control, and his race craft has taken a big step forward this season, as you've seen in the ARCA series, Plus, he's got a lot of confidence and momentum, so I think anything is possible," continued Ranier.
Creed is understandably excited about going into such a big race much more prepared and equipped. "I look forward to Eldora every year since dirt is kind of my thing, and it's my chance to show what I can do against the other drivers in the field that are really good on dirt," Sheldon said. "But there is no doubt that this will be the best equipment I've ever had for this race, and having my regular MDM guys around me will make a huge difference, so I think our chances are pretty good. We're really focused on winning the ARCA championship right now, but I'd love to do well at Eldora since I'd like to run a lot more truck races in the future," Creed concluded.
The 6th Annual Eldora Dirt Derby will run on Wednesday, July 18th, with NASCAR Camping World Truck Series qualifying at 4:30 pm ET, and heat races beginning at 7:00 pm ET and the 150-lap feature rolling off at 9 pm ET. FS1 will carry all the action live, and MRN will have the radio broadcast.
Additional information about MDM Motorsports is available at www.MDMmotorsports.com, find us on Facebook and follow us on Twitter @MDMmotorsports.
Media Contact:
Dylan "Mamba" Smith
(704) 928 6602
---
Categories: Car Racing
Tags: A.M. Ortega, Chevrolet Silverado, Eldora Dirt Derby, MDM Motorsports, RTL Leasing, Sheldon Creed,United Rentals
---