From California to Nashville, Showstopper Sheldon Creed balancing work and racing
TOLEDO, Ohio (March 15, 2018) — Like a lot of guys in the business of racing, Sheldon Creed, the "Showstopper", was headed to the race shop this morning. Not the one in North Carolina but the one in San Diego.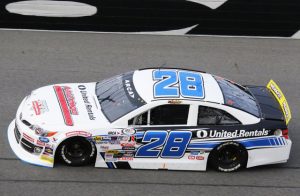 If San Diego seems like a long way from the ARCA scene, for Creed, it's his day job.
"I work full-time for the guy that used to run my race team," said Creed.
And if you've forgotten which race team Creed is referring to, it's the one that involves high-flying trucks over hills of dirt. Creed is a 5-time champion in the Lucas Oil Off Road Racing Series and a 2-time champ in the Stadium Super Trucks.
"I do a little bit of fabricating. Mostly I work on the assembly of the trucks…parts going in and out. I actually live in El Cajon (Calif.), about 25 minutes from downtown San Diego."
That means that Creed will be commuting back and forth from California to each ARCA race. When Creed is east of the Mississippi River, he goes to work with his guys at MDM Motorsports, the team he drives for on the ARCA Racing Series presented by Menards tour. With the Music City 200 coming April 7 at Fairgrounds Speedway Nashville, Creed will soon have to shift back into the stock car mode.
"I fly out next Sunday. I think the plan is to test at Nashville on the (March) 26th, then next day at Salem on the 27th."
While Creed is fairly new to the ARCA Racing Series, he's got two races in under his belt at Nashville, competing at the historic short track in 2016 and '17. Creed did well in both attempts, coming home 7th in his ARCA debut in '16, and 6th last year.
"Yeah I've raced at Nashville the last two years…first time I ever raced in ARCA was at Nashville in 2016."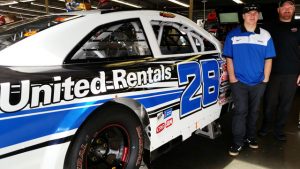 Creed feels like he's got a much better handle on the track now.
"First time I was there, I really didn't know the feel of an ARCA car, or what I needed. I still felt inexperienced going in last year. Last year, I struggled in the turns…getting the car to rotate through the corners. This year, I'm a lot more comfortable…better at relaying information to my crew chief.
"I wanna go and win that thing this year."
The Alpine, Calif. native is off to a great start, finishing 3rd in the season-opening Lucas Oil 200 at Daytona. Creed has already announced his plans to run the full ARCA season in 2018 in the No. 28 United Rentals Toyota with MDM Motorsports. Veteran ARCA/NASCAR crew chief Jeff Stankiewicz will be calling the shots atop the pit box all year.
MDM enters 4 for Nashville
In addition to Creed, MDM Motorsports has filed entries at Nashville for Meridian, Mississippi's Chase Purdy (No. 8 Bama Buggies Toyota), Huntington Beach, California's Zane Smith (No. 41 LaPaz Margarita Mix Toyota) and a TBA on the No. 12 Toyota.
ARCA Nashville Fairgrounds Roots go back to 1959
Three-time ARCA national champion Nelson Stacy was ARCA's inaugural winner at Nashville in 1959. Other notable race winners/champions at Nashville include Jack Bowsher (ARCA champion), Don White (USAC Stock Car champion), Harold Smith (ARCA champion), Ramo Stott (ARCA champion), Moose Myers (ARCA champion), Marvin Smith (ARCA champion), David Green (NASCAR Xfinity champion) and 2015 ARCA champion Grant Enfinger. Chad Finley won last year's Music City 200. Other ARCA winners at Nashville include Andy Hampton, Red Farmer and Coo Coo Marlin, all of whom were track champions in their own locales. Nineteen-time ARCA winner Bob Schacht won three consecutive at Nashville in 1981, '82 and '83.
Schedule/Tickets
Hauler parking and Super Late Model practice is scheduled for Friday, April 6, while all racing festivities are set for Saturday, April 7 with practice beginning at 12 noon with qualifying following at 3 p.m. Racing begins at 5:45. General admission presale tickets are available for a $5 per ticket discount at https://market.myracepass.com/store/tickets/?i=1138614&store=17617 or by calling the Track Enterprises office at 217-764-3200.
Don Radebaugh
dradebaugh@arcaracing.com