Sheldon Creed Dominates Zomongo 200 for First ARCA Series Win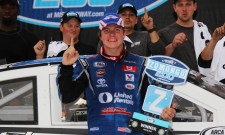 BROOKLYN, Mich., June 13, 2018 (Newswire.com) – MDM Motorsports had been on a roll in the ARCA Series going into last weekend's Zomongo 200 at Michigan International Speedway. Zane Smith had three wins, while the "rotator car" No. 12 had two wins with Brandon Jones and Harrison Burton both taking a checkered flag. Last weekend, former X-Games Gold Medalist Sheldon "The Showstopper" Creed dominated the race, scored his first career ARCA series win and made it six wins for MDM in ARCA competition in 2018.
Creed's United Rentals, A.M Ortega, RTL Toyota No. 28 led by crew chief Jeff Stankiewicz had about as successful of a weekend as you could ask for. He was fastest in practice. He qualified second. He had the fastest lap of the race. He took the lead for the first time on lap 28, then lost it briefly before snagging it back on lap 37 and leading the rest of the way to the finish.
As you could imagine, Creed and his team were ecstatic after the race was over.
"It feels great to finally get this win," Creed smiled. "I feel like a little bit of the pressure is lifted off our shoulders now. We've never doubted as a team that we could win, but the longer you go without winning the more each race becomes about getting that first win. Now we've achieved that, so we can go back to focusing more on racing each race and chasing the championship instead of whether we will get our first win."
With the victory, Creed reclaimed the series points lead he had held for the first few races until being overtaken by teammate Zane Smith, who finished 11th. Smith qualified second in his La Paz Margarita Mix, Icon Vehicle Dynamics, Speed Vegas Motorsports Toyota No. 41 and raced inside the top six for much of the event.
Unfortunately, he got caught two laps down under green-flag pit stops and was only able to make one of those laps up. "This was a tough race for us," the NASCAR Next racer said. "We just didn't have the speed that we are used to having during the race. Getting trapped on pit road was a killer. Mardy Lindley and the whole team worked as hard as they could, but you're going to have days like this. You just have to keep on rolling."
Chase Purdy struggled all day with his Bama Buggies, Polaris Toyota No. 8, qualifying twelfth fastest, then having a myriad of challenges during the race that the team just couldn't overcome. He ended up finishing 13th.
"It was a day of misfortune for us," Purdy said afterward. "Luck hasn't been on our side much this year, but it hasn't been for lack of effort. I have a terrific group of guys to work with and I'm thankful for every one of them. We're not going to get down, we're just going to keep working until we turn the luck around, hopefully in our next race at Madison."
Brandon Jones headed to Michigan having won the last two times the series has raced there, and he had driven the TRD, Mobil1, JBL No. 12 Toyota to victory lane at Charlotte just a few weeks ago. It looked like he was going to contend for his third straight Michigan win after he qualified fastest.
Unfortunately, it was not to be as he led the first four laps but then a blown motor ended his day on lap 27, well shy of the finish. "This wasn't the result our No. 12 team had hoped for, but it was still a momentous day for MDM Motorsports with Sheldon getting his first win," Jones commented. "We had a car to win, but sometimes things just don't fall your way. Today was Sheldon's day and I couldn't be happier for him and his team. That was a long time coming for them and I'm happy to see them finally be able to celebrate."
Media Contact: Brian Bonner
​Email: bonner@brmrace.com
Ph: (978) 361-5295