Sheldon Creed Heads to His 'Home' Race From Road Atlanta
X-Games Gold Medal Winner Makes Successful Debut In the Trans Am Series Presented by Pirelli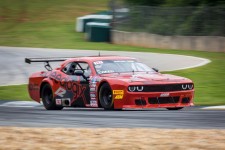 El Cajon, CA, May 18, 2017 (Newswire.com) - Sheldon Creed made a successful debut in the Trans Am Series presented by Pirelli last weekend at Road Atlanta, finishing a promising 6th in the TA2 class driving the Speedlogix/AM Ortega/United Rentals Dodge Challenger for Stevens-Miller Racing.
Creed, 19 years old from El Cajon, CA, had never driven a Trans Am car before the race weekend, nor had he even seen the difficult 2.54-mile, 12-turn Road Atlanta circuit. The multi-talented racing phenom still qualified a respectable 9th, despite being held up between turns 11 and 12 on his fastest lap in the short qualifying session. At the start of the race, Creed quickly advanced to the 6th position as the top-5 leaders slowly edged away from the pack and Creed settled into a race-long battle with Adam Andretti. Creed and Andretti swapped positions several times until Creed made a passing attempt going into turn 1 on the last lap and the two made contact, with Creed ultimately coming out on top to cross the line in 6th.
Sheldon Creed on Road Atlanta: "Thanks to the Stevens-Miller Racing team for giving me a really good and fast race car for Road Atlanta. It was probably the most fun car I've ever raced on pavement. We had a really good race going, but I locked up and lost the rear end a little making a pass on Adam Andretti on the last lap and the back of my car made contact with his. It was definitely unintentional and just hard racing back and forth, but I've probably got one coming back to me now."
Creed's next race will be one of great contrast as he competes in the K&N Pro Series West race this Saturday on the 1/4-mile oval at Orange Show Speedway in San Bernardino, California. He will be in the driver's seat of the #27 AM Ortega/United Rentals/RTL Ford Fusion for Jefferson Pitts Racing.
Sheldon Creed on Orange Show: "It'll be a pretty big change from road racing on the big track at Road Atlanta to the little bull ring of Orange Show Speedway this weekend. It will be my only "home" race of the season in Southern California, so I'm really looking forward to putting on a show for my family and friends out at the track with Jefferson Pitts Racing. They've got a great track record there and I'm really looking forward to working with them."
About Sheldon Creed:
Sheldon Creed, nicknamed "The Showstopper" began racing BMX at age 3 and won 2 motocross championships at age 6. He has won at least one championship every year since 2008. 
Career Highlights:
25 Lucas Oil Off Road Racing Series 1st Place Finishes

5 Championship Off Road Racing Series 1st Place Finishes

2015 – X-Games Gold Medalist in Stadium Super Trucks

2015 & 2016 Speed Energy Stadium Super Trucks Champion

2016 - Raced in the NASCAR Camping World Truck Series, ARCA Series, and the world-famous Dakar Rally

2017 - Competing in the ARCA Series, NASCAR K&N Pro Series East and K&N Pro Series West, NASCAR Xfinity Series, Trans Am Series, and Stadium Super Trucks Series
About Jefferson Pitts Racing:
Jefferson Pitts Racing is a team competing full time in the NASCAR K&N Pro Series West with occasional events in the NASCAR K&N Pro Series East and a Super Late Model program. Jefferson Pitts Racing is co-owned by Jeff Jefferson (winning super late model driver from the Pacific Northwest, three-time NASCAR NW Tour Champion & K&N West Championship Crew Chief) & Jerry Pitts (three-time K&N West Championship crew chief & past crew chief for various drivers in the NASCAR Cup Series).
In two and a half years of competition, JPR's track record stands as: 8 Wins, 48 Top 5s, 69 Top 10s, in 103 starts.
Media Contact: Brian Bonner
Email: bonner@brmrace.com 
Ph: (978) 361-5295