Sheldon Creed Leads MDM Motorsports ARCA Podium Sweep at Gateway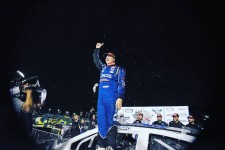 MADISON, Ill., June 26, 2018 (Newswire.com) – Sheldon Creed picked up his second ARCA Series win of the season, leading an MDM Motorsports podium sweep in the Papa Nicholas Coffee 150 Friday night at Gateway Motorsports Park in Madison, Illinois.
Creed picked up the win, Chase Purdy finished second, and Harrison Burton came across in third to complete the 1-2-3 finish for MDM. Anthony Alfredo finished seventh in his first ARCA Series start, and Zane Smith was running strong until a crash relegated him to a sixteenth place finish.
If the day were a motorsports test, Creed, and the United Rentals, A.M Ortega, RTL Toyota No. 28 led by crew chief Jeff Stankiewicz surely would have aced it. They were fastest in practice, set fast time, led the most laps and won the race.
"It just doesn't get much better than that," a smiling Creed said after the race. "This one wasn't even really circled on the calendar as a place we thought we'd be really strong. This whole MDM Motorsports organization is amazing. I'm so thankful to be a part of it. I'm just shocked at the day we had today. Thank you to everyone who has helped me get to this point."
Purdy brought his Bama Buggies, Polaris Toyota No. 8 home in second after starting in the sixth position. He was inside the top five for virtually the entire race, inching closer to his first series win.
"I'm really excited about where we are as a team right now," the incoming University of Alabama freshman said. "We've finished top five in our last two starts, we just finished second, and I feel like we are gaining momentum. My guys have persevered through a lot of bad luck and circumstances, and we're starting to turn things in our favor. I am looking forward to Chicagoland."
Burton qualified second fastest in his Dex Imaging, Safelite, Mobile 1 No. 12 Toyota. He ran in the top five throughout the race, struggling on some of the restarts. He finished third and felt like more might have been possible.
"I had a lot of fun racing three-wide, but I would have much rather been up front," commented the humble young racer from Huntersville, North Carolina. "I made some mistakes on restarts that hurt our chances. I will go to work and get better. Being mad about third means we're doing something right."
Alfredo slid over from the NASCAR K&N Pro East Series, where he's already gotten a win in his rookie season in his CECO Building Systems, Oxford Energy, Meccanic Toyota No. 40. He started 13th, raced inside the top ten all night and avoided costly mistakes to finish seventh.
"It was definitely a solid race for us," he said with his trademark smile. "I wish we could have gotten to fourth to sweep the top four with our teammates. I learned a lot that I will be able to apply when we race our K&N Pro Series East car here at Gateway soon. I had a blast racing with the ARCA Series, and I hope we can put something together to get on another mile or over the track this year. I want to thank everyone who has helped me make this all possible, including my marketing partners, family, and supporters."
Smith qualified fifth with his La Paz Margarita Mix, Icon Vehicle Dynamics, Speed Vegas Motorsports Toyota No. 41 led by crew chief Mardy Lindley. He had one of the fastest cars in the first 50 laps of the event, running as high as second at lap 44. About thirty laps later, he got loose coming out of turn two and hit the wall.
The right front brake was broken from the crash, so he was only able to continue at reduced speed and finished 16th.  The Huntington, California driver was disappointed but optimistic after the race was over.
"I hate it that we didn't get the chance to race our teammates for the win. My guys gave me another fast car, and that's all I can ask for," Smith stated. "I just made a mistake with (Gus Dean) on my door and got sucked around.  It was fun moving to the top. I learned a lot about that for the truck race (he finished fifth). We'll put this behind us and get after it at Chicagoland."
Creed now leads Smith by 155 points in the series championship standings.  The next race for the team will be this Thursday night at Chicagoland Speedway in Joliet, Illinois. The Scott 150 gets underway at 8 pm Central time and will be televised on Fox Sports 1.
Media Contact: Brian Bonner
​Email: bonner@brmrace.com
Ph: (978) 361-5295