Sheldon "The Showstopper" Creed Invades Orange Show Speedway
X-Games Gold Medal Winner Makes Successful Debut In The K&N Pro Series West at Orange Show Speedway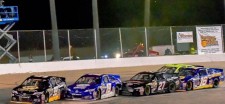 El Cajon, CA, May 25, 2017 (Newswire.com) - ​Sheldon "The Showstopper" Creed made his debut in the K&N Pro Series West at Orange Show Speedway last Saturday night, piloting the #27 United Rentals/AM Ortega Ford Fusion for Jefferson Pitts Racing, and came home with another very strong finish in unfamiliar surroundings.
Creed, 19, from El Cajon, CA, spent the previous weekend piloting a Trans Am car on the 2.54-mile, 12-turn Road Atlanta circuit.  So, transitioning to the ¼-mile oval at Orange Show Speedway, could have posed problems, but Creed was fastest overall during much of the first practice session before ending up 2nd on the time sheets. In time trials, Creed would ultimately qualify 6th, just .19-seconds off the pole position.
When the green flag dropped on the 150-lap race, the top five cars edged away but Creed was biding his time running in sixth place, and survived several wrecks and caution flag periods to end up in a late lap shootout with pole-sitter and defending race-winner Chris Eggleston. Eggleston would prove to have the better car at the end, but Creed would finish in an unchallenged second place for a thrilling series debut.
Sheldon Creed on Orange Show: "I really didn't know what to expect going into Orange Show, but Jefferson Pitts Racing gave me an awesome race car right off the truck, so I felt we'd at least be in the hunt. The top five kind of took off at the start and were beating and banging on each other, so I decided to sit back and try to take care of my stuff, and at the last restart we at least had a shot at the win. My car was just too tight to really challenge Eggleston but I'm super proud of the effort that the JPR guys made and I can't wait until our next race together in Sonoma."
The next race weekend on Creed's schedule will be a double-duty effort at the Detroit Grand Prix on June 3-4, where he will race in both the Trans Am Series and the Stadium Super Truck Series. Creed's next race with Jefferson Pitts Racing in the NASCAR K&N Pro Series West will be on the famous road course of Sonoma Raceway, where he will be teamed with Monster Energy NASCAR Cup Series star Kevin Harvick for the weekend. "Happy Harvick" and "Showtime" should prove to be a very entertaining driver lineup for JPR at Sonoma.
About Sheldon Creed:
Sheldon Creed, nicknamed "The Showstopper" began racing BMX at age 3 and won 2 motocross championships at age 6. He has won at least one championship every year since 2008.
Career Highlights:
25 Lucas Oil Off Road Racing Series 1st Place Finishes

5 Championship Off Road Racing Series 1st Place Finishes

2015 – X-Games Gold Medalist in Stadium Super Trucks

2015 & 2016 Speed Energy Stadium Super Trucks Champion

2016 - NASCAR Camping World Truck Series, the ARCA Series, and the world-famous Dakar Rally

2017 - Competing in the ARCA Series, NASCAR K&N Pro Series East and K&N Pro Series West, NASCAR Xfinity Series, Trans Am Series, and Stadium Super Trucks Series
About Jefferson Pitts Racing:
Jefferson Pitts Racing is a team competing full time in the NASCAR K&N Pro Series West with occasional events in the NASCAR K&N Pro Series East and a Super Late Model program. Jefferson Pitts Racing is co-owned by Jeff Jefferson (winning super late model driver from the Pacific Northwest, three time NASCAR NW Tour Champion & K&N West Championship Crew Chief) & Jerry Pitts (three-time K&N West Championship crew chief & past crew chief for various drivers in the NASCAR Cup Series).
In two and a half years of competition, JPR's track record stands as:  8 Wins, 48 Top 5s, 69 Top 10s, in 103 starts.
Media Contact: Brian Bonner       Email: bonner@brmrace.com       Ph: (978) 361-5295